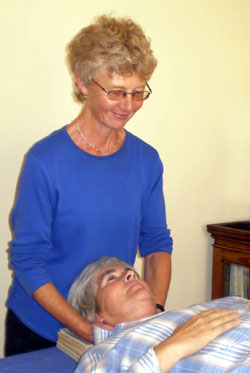 Getting started is easy. First get in touch to book an Introductory lesson with me, Sarah, or if you simply want to dip your toe in, Group Workshops are fun and informative.  We hold an introductory event twice a year, which is full of practical tips and experiential activities. One to one lessons are a great way of getting the most benefit from the Alexander Technique for you personally.
Lesson are always a pleasure… her gentle encouraging manner is brilliant.
Pam, retired
About your lessons
Individually tailored Alexander lessons are generally relaxing and enjoyable.
Sessions are usually 50 minutes long – allow one hour.
You remain fully dressed except for your shoes.
During the lesson you will be standing, sitting, lying down while the teacher guides you and explains how you can participate.
At your first appointment you will have a chance to explain your interest in Alexander lessons or history of any problem.
Confidentiality and privacy will be observed by your teacher.
Your teacher maintains the professional code of conduct set by The Society of Teachers of the Alexander Technique.
How to book
Please phone 07817-042858 to book a lesson.
Introductory lessons
A single introductory lesson is:
For an initial assessment of your situation and needs;
To experience the Alexander Technique for yourself;
To meet and speak with the teacher.
Where and when
Lessons in Worthing
Appointments for lessons in Worthing are from Tuesday to Thursdays. Some Saturday appointments are also available. Sessions take place in Milton Street near the sea end of Heene Road.
Free parking 5 mins walk, in Manor Road or 50p for 4hours in Shelley road. 
View Larger Map
Cost
Individual lessons are from £30 to £45  Please ask if you need a reduction,  for example for those on a low income, or students.   Check "news" for promotion offers